Keep up on the latest in Global Housing
United Nations Day 2022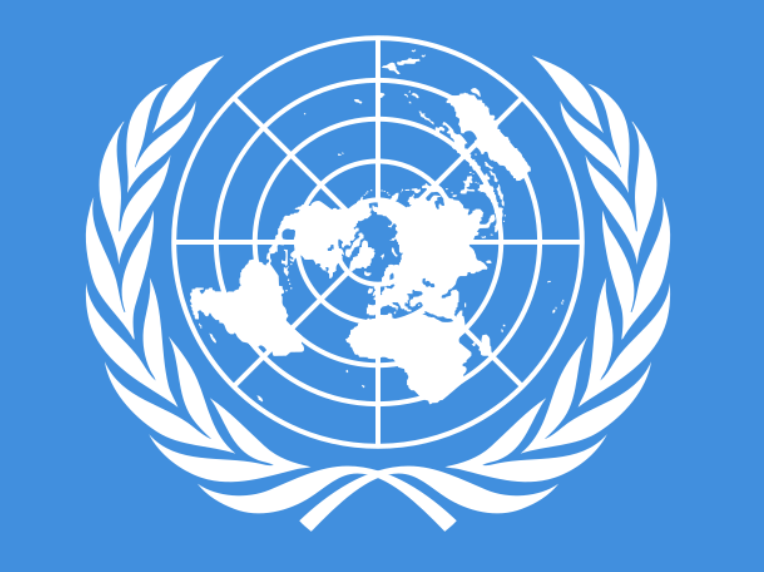 Monday, October 24 • 12:00pm EST
Innovative Ideas to Transform the Global Workforce Housing Crisis: Disruptive, Creative & Sustainable Solutions Which Make a Difference
Announcing Global Housing Network's Ambassadors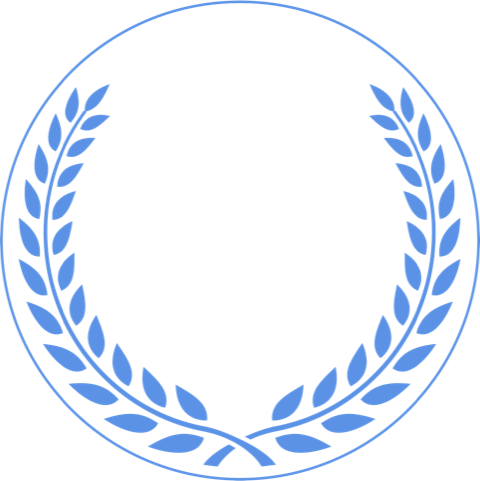 In recognition of support and guidance toward the mission of providing housing for the working poor, GHF designates strategic individuals who have worked directly, or intend to work directly, to assist with the GHF mission.
The Future of Workforce Housing is Now: Innovative, Creative & Sustainable Solutions from Around the World
On Monday, October 25 2021, in celebration of United Nations Day, the Global Housing Foundation facilitated a virtual program highlighting new and innovative solutions to solve workforce housing from around the world.
Hear from industry experts and become inspired by the groundbreaking solutions set to transform the affordable housing crisis for the better.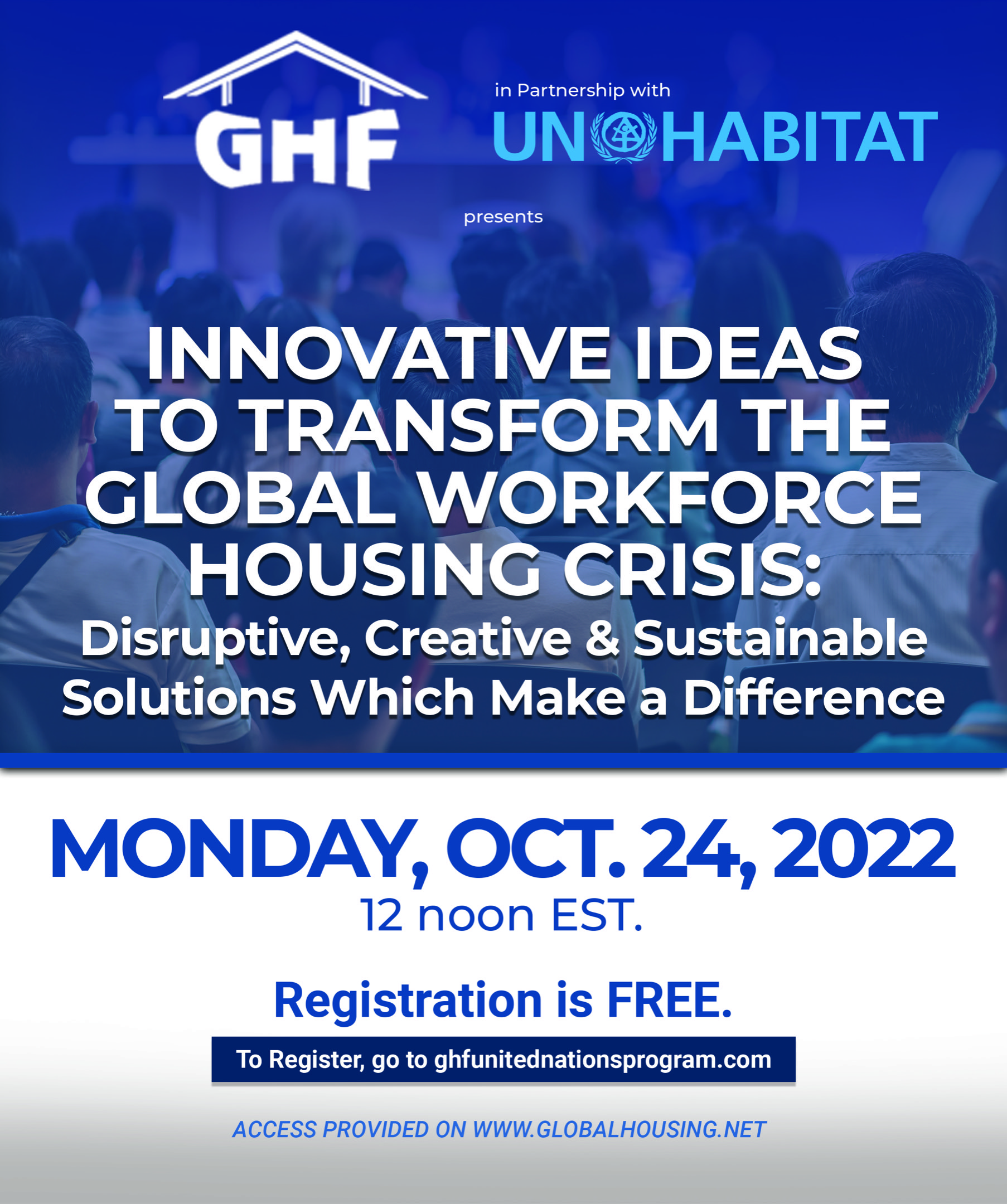 The Global Housing Network presents and aggregates otherwise hard to find resources to further raise awareness for our mission of building housing for the poor.
Started by the Global Housing Foundation in response to COVID-19, the GHN is a key resource connecting hundreds of organizations and individuals.
The Global Housing Foundation's mission is to provide affordable housing for the working poor.
Global Housing Discussions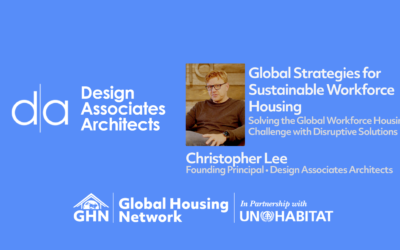 Christopher Lee, Founding Principal of Design Associates Architects and Board of Directors at Global Housing Foundation, discusses disruptive solutions to solving affordable housing through the lens of an architect with a demonstrated history in government-private...
Breaking News From our Partners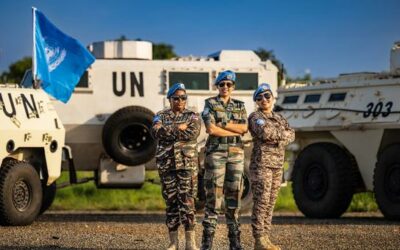 Since 1948, more than two million uniformed and civilian personnel have served at UN field missions across the world.  Their contributions are being highlighted on the International Day of United Nations Peacekeepers, observed on Monday.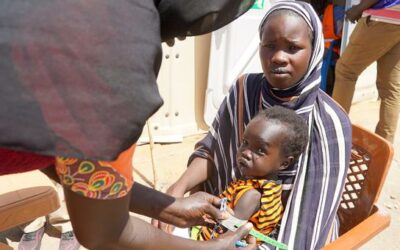 Hunger is set to worsen in 18 "hotspots" worldwide including Sudan, where fighting is putting people at risk of starvation, the Food and Agriculture Organization (FAO) and the World Food Programme (WFP) warned in a report published on Monday.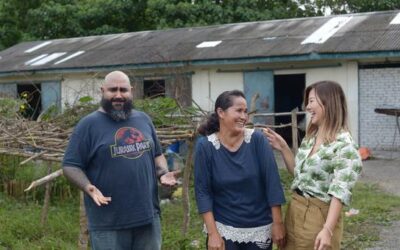 Every recipe has a story, from Pakistan's signature chicken korma to kaldu kokot cooked on Indonesia's Madura Island. The UN Human Rights Office (OHCHR) has set the table for an innovative campaign that brings seven recipes to life, tackling a wave of hate speech...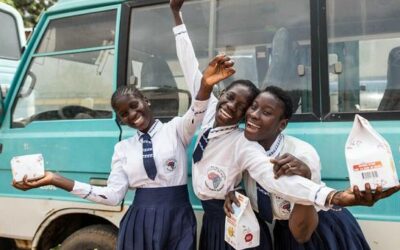 Fatoumatta Fatty's commute on an old, malfunctioning wheelchair takes up to two hours during rainy season in The Gambia, but she is happy joining her co-workers at a sanitary pad production centre, where she takes pride in making products that help women overcome...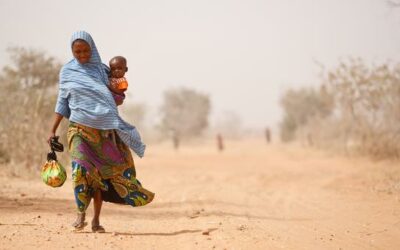 In the summer of 2022, 70 Gambian babies and young children died from kidney failure after ingesting cough syrup spooned out by their caregivers. The World Health Organization (WHO) issued a global alert that four tainted paediatric products had originated in India,...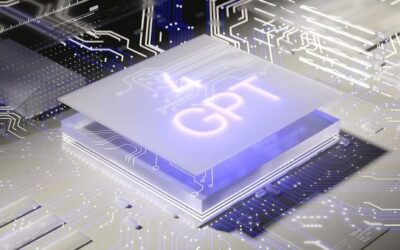 The UN convened the first ever global meeting with education ministers from around the world to explore risks and rewards of using chatbots in classrooms, announcing on Friday a new roadmap to chart a safer digital path for all.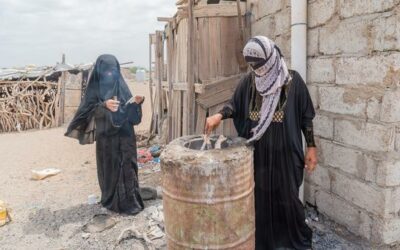 The food security situation in Yemen's government-controlled districts "slightly improved" during the first five months of this year, but acute malnutrition is on the rise, UN agencies warned in a new report released on Friday.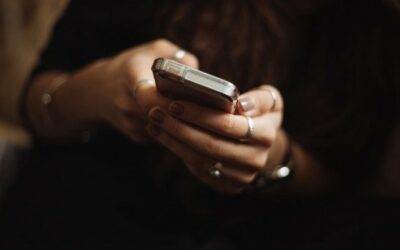 Allowing space for everyone to speak up, is critical for a free and fully functioning society said the UN human rights chief on Friday, warning that a safe environment online has never been more essential.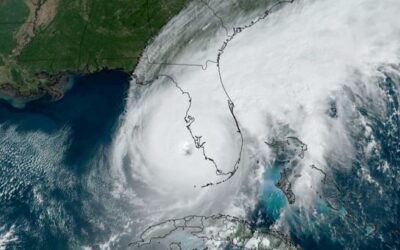 The United States' National Oceanic and Atmospheric Administration (NOAA) predicts "near-normal hurricane activity" in the Atlantic this coming storm season, said the UN weather agency on Friday, forecasting between five and nine major storms that could become...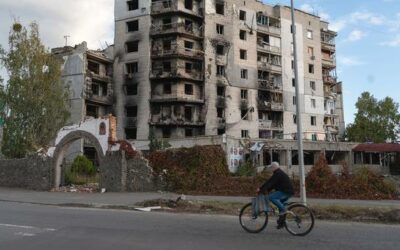 Humanitarians reached 5.4 million people in Ukraine with desperately needed aid by April this year, including cash assistance, food, health services, and medicines, the UN said on Friday.
With hunger spreading worldwide and tobacco responsible for eight million deaths each year, countries should stop subsidizing tobacco crops and help farmers grow food, the World Health Organization (WHO) said on Friday.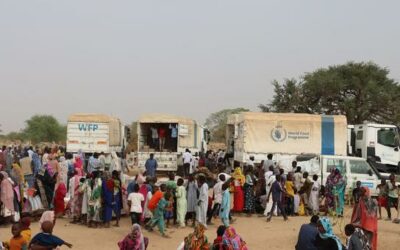 The UN and humanitarian partners are mobilizing to reach as many people as possible while the stuttering ceasefire between warring military factions is being respected, said the UN Spokesperson on Thursday.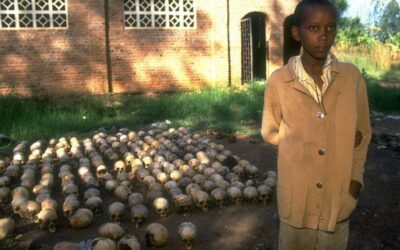 One of the world's most wanted genocide fugitives has been arrested after being on the run for more than two decades, the UN tribunal prosecuting war crimes committed in Rwanda reported on Thursday.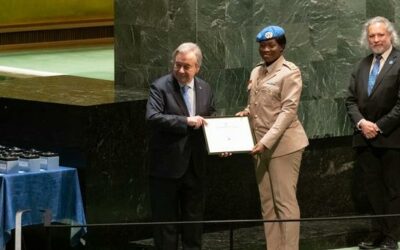 The UN's 87,000-plus peacekeepers worldwide are "a beacon of hope and protection" for vulnerable civilians, in an increasingly dangerous and uncertain world, the UN chief said on Thursday, recognizing that last year, another 102 'blue helmets' fell in the line of...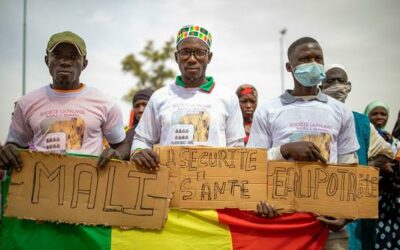 The UN political affairs chief on Thursday appealed for the Security Council to ensure reliable funding for African Union (AU) efforts towards greater peace and security on the continent.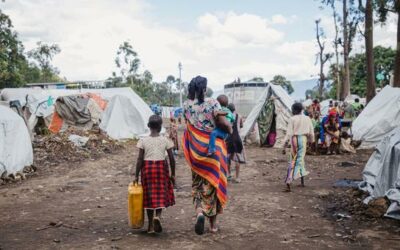 UN Special Representative, Pramila Patten, expressed her 'deep concern' on Thursday over increasing allegations of sexual violence against women and girls being carried out in camps for the internally displaced (IDPs) around Goma, in the Democratic Republic of the...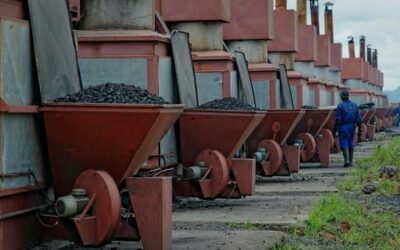 The robust growth that many African countries experienced before COVID-19 was lost to the pandemic, UN Secretary-General António Guterres said on Wednesday, highlighting the need to scale up efforts towards a single trade market on the continent.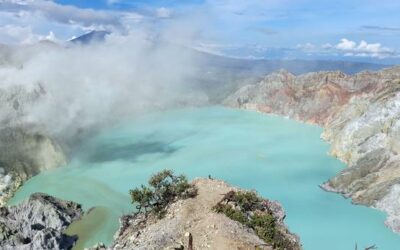 The UN's Educational, Scientific and Cultural Organization (UNESCO) has endorsed the addition of 18 new sites from around the world to its network of outstanding Geoparks, showcasing some of the most beautiful sites of natural beauty around the globe.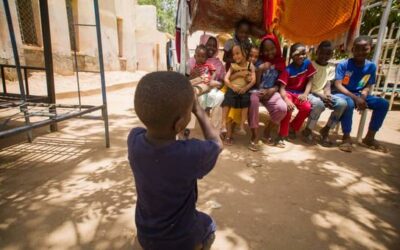 The UN's top advocate on ending violence against children, joined UN agencies on Wednesday in highlighting the urgent need to protect the rights of young people on the move, amid spiralling crises worldwide.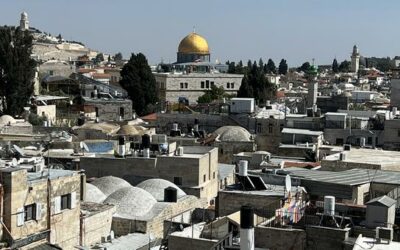 Swift action is needed to prevent flare ups of Israeli-Palestinian violence and avert a looming food crisis, the top UN official in the Middle East told the Security Council on Wednesday.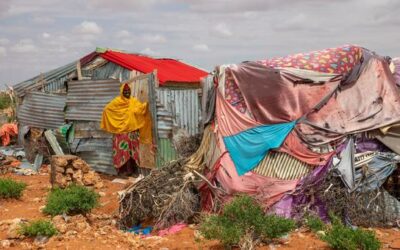 With "crisis atop of crisis" threatening millions in the Horn of Africa, the international community cannot afford to stand idly by, Secretary-General António Guterres said at a pledging event to raise $7 billion for the region, held at UN Headquarters in New York on...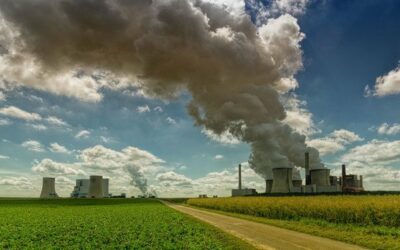 A hundred and ninety-three countries have unanimously approved the creation of a global greenhouse gas monitoring mechanism, the World Meteorological Organization (WMO) announced on Wednesday.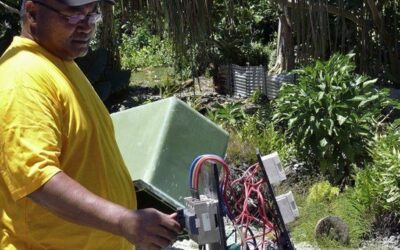 New ideas must open fresh pathways towards finally ending the era of colonialism and to help advance sustainable development in the world's 17 remaining colonies, the UN chief said in a video message to the Organization's decolonization seminar in Bali, Indonesia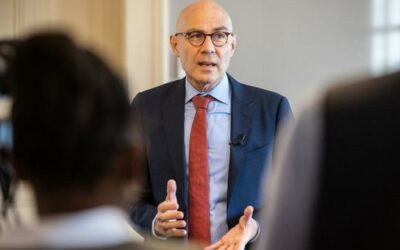 The "senseless" fighting in Sudan must stop now, and the warring generals have to insist on zero tolerance for sexual violence among their troops, the UN rights chief said on Wednesday.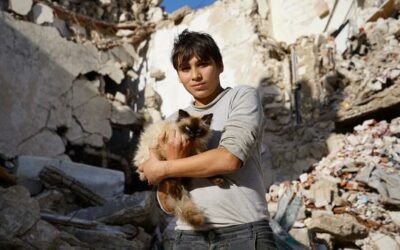 Civilians continue to bear the brunt of conflict-related violence and destruction, and during the Protection of Civilians (PoC) Week 2023, observed from 22 to 25 May, the UN and partners are working towards finding the best ways to protect them.